Stan Weinstein's Stage Analysis and Market Breadth - Technical Analysis
Welcome to the Stan Weinstein's Stage Analysis Discussion Thread. I've been running this thread on another forum since September 2011 here: https://www.trade2win.com/boards/technic...lysis.html, but it's become too big to manage in a single thread. So I've created this forum for it, so that the charts can be organised in a logical way, which will make it easier for everyone to find what they are interested in.

The previous thread has over a year and half of posts, detailed discussions, interviews, examples etc, and so is an excellent starting point for anyone wanting to learn Stan Weinstein's method, but I hope to take it to the next level on here.

If you are viewing this as a guest then I'd recommend taking a minute to register as a member on here - which is free of charge, and will give you access to all main boards and the ability to post in this thread, as only members are allowed to contribute to the site.

Anyway, I hope you enjoy the thread.

Definitions of the Stages and Sub-stages

Stage 1A Start of a base. Needs much more time.
Stage 1 Basing Phase. May begin accumulation.
Stage 1B Late in base-building phase. Watch for breakout.

Stage 2A Early in uptrend stage. Ideal time to buy aggressively.
Stage 2 Advancing Stage.
Stage 2B Getting late in uptrend.

Stage 3A Looks as if a top is starting to form. Be sure to protect holdings with a close stop.
Stage 3 The Top Area. Start to reduce positions.
Stage 3B Has become increasingly toppy. Use rallies for at least partial selling.

Stage 4A Stock has entered Downtrend Stage. Close out remaining positions.
Stage 4 The Declining Stage. Avoid on the long side.
Stage 4B Late in downtrend. Much too soon to consider buying.
Stage 4B- Although not yet 'officially' in Stage 1A, stock has now seen its low for the cycle.

Additional ratings
(A) Early in that Stage.
(B) Late in that Stage.
(+) Outstanding pattern in that Stage.
(–) Unexciting pattern in that Stage.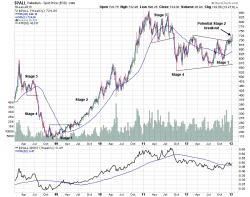 Training Courses

Udemy – Video Training Course
Learn Stock Trading & Investing Techniques – Stage Analysis
Beginners Guide to Trading Stocks With the Stage Analysis Method – Made Famous in Stan Weinstein's Classic Book


Interviews

Video Interview from the day of the 1987 Stock Market crash
Black Monday - Part 2 - Nightly Business Report Oct.19, 1987 - YouTube

Stan Weinstein Q&A
https://www.stageanalysis.net/forum/show...623#pid623

Interview with Stan Weinstein | Stage Analysis Secrets | The TraderLion Podcast | Ep. 1
https://www.stageanalysis.net/forum/Thre...3#pid18673


Reading

Global Trend Alert example - March 2005
https://www.trade2win.com/threads/stan-w...st-1675626

Extract from Stan Weinstein's interview in the "Technically Speaking" book
https://www.trade2win.com/threads/stan-w...st-2037672

Extract from Stan Weinstein's interview in the "The Heretics of Finance" book
https://www.stageanalysis.net/forum/show...0#pid12200

Indicators

Tradingview:

Mansfield Relative Strength (Original Version):
https://www.tradingview.com/script/NzUBD...eanalysis/

Relative Strength (Mansfield RS) – Unflattened Version:
https://www.tradingview.com/script/dfNpA...sfield-RS/

Stage Analysis Technical Attributes (SATA):
https://www.tradingview.com/script/o8cHt...eanalysis/

Miscellaneous

How to create the Mansfield Relative Strength Indicator
https://stageanalysis.net/forum/showthread.php?tid=31

Buying Reference
https://www.trade2win.com/threads/stan-w...st-1692514

Point and Figure Charts - Free resources to help learn P&F charting
https://stockcharts.com/school/doku.php?...pnf_charts

Effective Volume Analysis - Link to the website that covers everything to do with the Effective Volume data from the book Value in Time: Better Trading through Effective Volume
http://www.effectivevolume.com/content.p...etf-review


---
Major Charts Update - week ending 22nd February 2013
Attached is the updated major charts and the relative performance table. The FTSE 100 holds onto the top spot for another week, while the DAX moves back to second place. The notable mover this week in the table was the Dollar Index (DX) which moved up two places to 8th. The Dollar Index made a closing breakout above the 200 day MA, but didn't close the week above the November high however. The 30 week weighted MA turned up, bu the 30 week SMA is still declining, and so if it breakouts here it wouldn't be considered a valid Stage 2 entry point until the 30 week MA stabilised. It has however, been a big driving force behind the commodity declines this week along with the Chinese market ($SSEC) pullback, which particularly affected Copper and the Base Materials sector.
Treasuries also had a strong week and closed around the top of the one month range and above their reasonably steep downtrend lines, but are still well below declining 30 week MAs.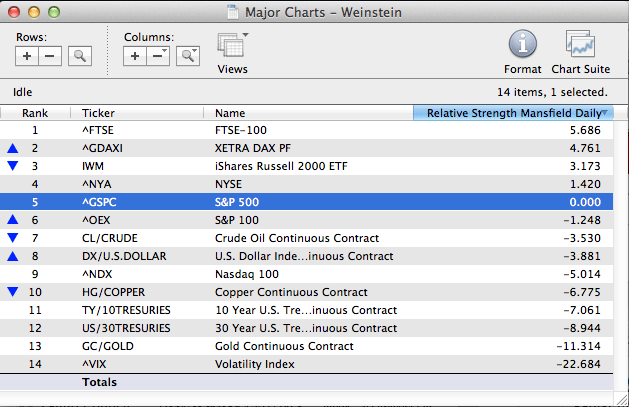 isatrader
Fate does not always let you fix the tuition fee. She delivers the educational wallop and presents her own bill - Reminiscences of a Stock Operator.