US Stocks Breakouts & Breakdowns - SP500, NYSE, & Nasdaq Stock Charts
This thread is a place for people who trade using Weinstein's Trader method. Please share any charts that you have on your watchlist that are already in Stage 2, making or close to making continuation breakouts, and also any charts of note that meet the following trader method criteria below:

Price Action

- price above a rising 30 week moving average


Relative Performance

- above the Mansfield Zero Line (Relative Performance 52 week MA)


Volume

- ideally two times the four week average or greater on the Stage 2 continuation breakout week, or three times the average daily volume on the breakout day


Support / Resistance

- little or no heavy near term resistance.

For Stage 4 continuation breakdowns the reverse of the above conditions should be true.
The below chart is Chart 3-3 from page 62 of the book and shows the ideal entry point for the trader method. The entry point marked with an "A" shows a Stage 2 continuation move. To learn more about the trader method start by reading Chapter 3 in the book, and the various resources on the Stage Analysis forum.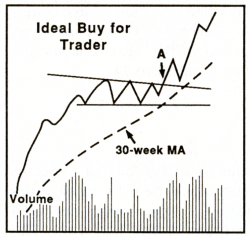 If you are unsure how to attach an image with your post see the
How to attach an image to a post
thread.
Disclaimer
: The charts posted in this thread are not recommendations to buy or sell, and are simply meant to highlight stocks that meet some or all of the criteria of Weinstein's method and might be worth doing more of your own research on.
isatrader
Fate does not always let you fix the tuition fee. She delivers the educational wallop and presents her own bill - Reminiscences of a Stock Operator.