RE: Stan Weinstein's Stage Analysis and Market Breadth - Technical Analysis
A few breadth measures - comparisons

Broker dealers versus the S&P500
The brokers have been weaker than the S&P 500 for a few months now, suggesting that people are less confident in the market owing to the prices of brokers being depressed.



S&P500 versus the equal weight S&P500
The relative strength of the market cap weighted S&P500 versus the equal weight S&P500 as has a small pullback, but generally the market cap weighted has been stronger - indicating that its the larger caps leading.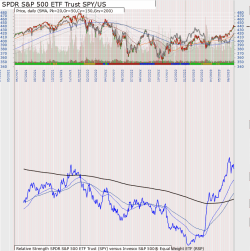 Equal weight Consumer Discretionary versus equal weight Customer Staples
Looks like discresionary have been strengthening, but with a big climb up, pullback but another climb.  This is generally a bullish sign versus the more bearish signs above.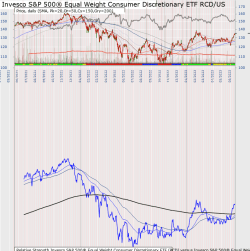 S&P600 versus S&P500
Simply the small caps are weaker than the large caps, a bearish sign.