RE: UK Stocks - Watchlist and Discussion (Premium)
(06-05-2014, 08:11 PM)

isatrader Wrote:

(06-05-2014, 07:59 PM)

pcabc Wrote: I note BPM has broken out above a

falling

MA30. So that is not a buy then?


No, it's not falling according to the prorealtime charts. The 30 week MA turned up this week on their data. Last week it was 139.11 and currently it's very slightly higher 139.36 (see attached) and so a valid for a continuation breakout.
Hmm. I zoomed in - yes for the last two data points it has risen: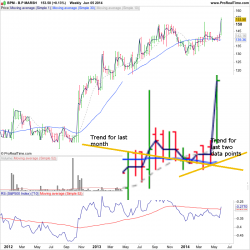 A daily chart shows similar. However, I don't think you'd get away with claiming it is rising in an engineering review - it is barely perceptible.
Not being pedantic, just curious.