RE: UK Stocks - Watchlist and Discussion (Premium)
Have not had any luck yet getting a UK advance decline line chart except for FTSE100. Therefore I thought the next best thing would be to plot the relative strength for the FTSE250 and FTSE All share versus the FTSE100. The two indicies (actually ETFs) are plotted on the top graph and the relative strength on the bottom ones. I've not submitted any long term averages as per the Mansfield relative strength.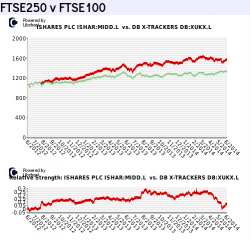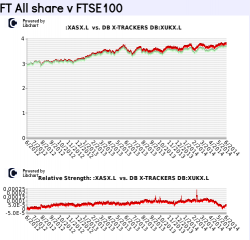 Bear in mind that the FTSE All Share will include the FTSE100. Interesting point, 250 and All Share were climbing against the FTSE100 until about late March/April when there was a rapid drop. However, of late, the last few weeks, the relative strength has been turning up. Not sure what that is indicative of, short term blip of something longer?

Given that I cannot download the FTSE data I've picked a couple of ETFs. I hope they are good representations.

I'm wondering whether this is useful or just another spurious chart.