RE: UK Stocks - Watchlist and Discussion
(02-05-2014, 11:52 PM)

Lplate Wrote: Thanks for another excellent post isatrader. The FCCN interested me because my first glance on a longer-term chart was to think that it is still in stage 1. My next thought was no it could have broken out in October (even though it faltered the following week) and so what is the significance of the big move up today. http://tinyurl.com/osyc5gm It shows that chart software can lead to different paths of thought.
Either way it still is a definite promising candidate, though with a negative tone to the wider market it is too soon to take the plunge.
If using big charts you need to change the "Price Display" drop down to
Logarithmic
, and then you'll be able to see the Stage 1 bases percentage moves correctly, as after a long Stage 4 decline the Stage 1 base can be hard to make out on a standard scale chart, as the price moves are distorted. See attached log scale chart.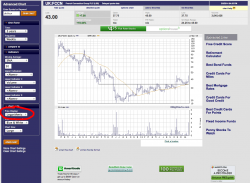 You should have a look at prorealtime.com. EOD charts are free and has a really good scanner.
isatrader
Fate does not always let you fix the tuition fee. She delivers the educational wallop and presents her own bill - Reminiscences of a Stock Operator.