RE: UK Stocks - Watchlist and Discussion (Premium)
(2015-04-21, 10:36 PM)

pcabc Wrote: IGR.L, breakout with gap up on large volume spike:
It also is a longer term breakout as is making a monthly Stage 2A breakout as well as a weekly, so looks a promising one.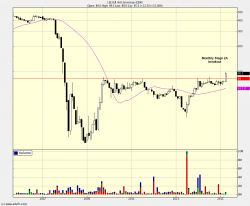 isatrader
Fate does not always let you fix the tuition fee. She delivers the educational wallop and presents her own bill - Reminiscences of a Stock Operator.