UK Cumulative P&F Breakouts - Breakdowns
I've been tracking the UK Cumulative P&F Breakouts - Breakdowns since the beginning of the year when stockcharts started listing UK stocks, so now it's built up three months of data I thought I'd show it for the first time. It works exactly the same as the S&P 500 version that I post each week in the market breadth extra thread.

The black line is the Cumulative P&F Breakouts minus the Breakdowns, and the red line is the 20 day MA of the cumulative line, and the green line is the 50 day MA of the cumulative line. Signals tend to be bullish when it's above the 20 day MA, neutral when it's below it but above the 50 day MA still, and a sell when it's below the 50 day MA, or the cumulative line breaks below support from a previous low. Currently it's accelerating to new highs after it's recent pullback to the 20 day MA.

I think it should make a very useful addition for the UK members, as it gives a clear view of what's going on under the surface. And decent breadth charts for the UK market is an area that is lacking, so I think this will be an invaluable tool for timing like the US version has already become.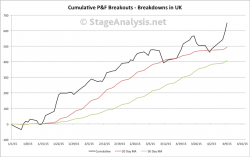 isatrader
Fate does not always let you fix the tuition fee. She delivers the educational wallop and presents her own bill - Reminiscences of a Stock Operator.