RE: UK Stocks - Watchlist and Discussion (Premium)
(2015-03-27, 12:07 AM)

pcabc Wrote:

(2015-03-26, 10:45 PM)

malaguti Wrote: LRE.LON not on the immediate alert, but one to watch all the same with an inverse head shoulders perhaps forming
a break of the last lower high prompted me to look at this one


The issue I have (an issue with myself) with that shaped chart is when does the breakout occur? Assuming a rising MA30 is it at the level you have marked? As the downward resistance is broken? Or is it around 950?
This is where the weekly ichimoku cloud is useful for determining where the true breakout level is that would be clear of resistance. See attached weekly chart which shows LRE.L is attempting to form a Stage 1 base, and to look for a breakout above the 700 area resistance for a clear move into Stage 2A. But it's still early in it's Stage 1 base formation currently, and is yet to form a higher swing low.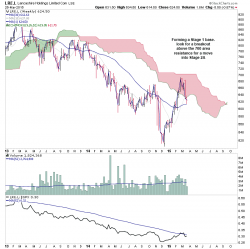 isatrader
Fate does not always let you fix the tuition fee. She delivers the educational wallop and presents her own bill - Reminiscences of a Stock Operator.