(This post was last modified: 2015-02-05, 10:30 PM by pcabc.)
RE: UK Stocks - Watchlist and Discussion (Premium)
(2015-02-05, 09:18 AM)

isatrader Wrote: AVO.L - Making a fresh continuation attempt after a failed breakout in September.
I have a position in AVO from September. As it was a failed breakout I should have sold - so this is an excellent time to consider what I should have done. Chart below with buy point marked with an up arrow: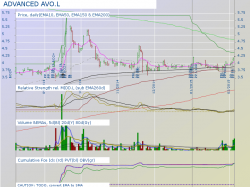 With the benefit of 20/20 hindsight should I have spotted the parabolic move and chased it up with a very fast stop or should dropping through 4.4p in mid October been the time to drop it. Due to its behaviour I spent several months at a 15% loss, ignoring the opportunity cost and I am still just under 5% down. Lets hope it does something more sustained this time. I would add that I was likely heeding the rule or 'never sell above a rising MA30' - but I think that even that rule can be overridden in a failed breakout.