RE: UK Stocks - Watchlist and Discussion (Premium)
(2014-08-14, 10:08 PM)

pcabc Wrote: I would imagine it is a little late to purchase RNWH.L now, being around 8% above the breakout level.
Yep, it is a day late on the breakout, but it could always pullback tomorrow, or you can position size to manage your risk with a smaller position, or choose a tighter stop loss like below this weeks low or some other stop loss method.
Sometimes what can look too high, is still only very early in the Stage 2 advance. See BITA now, which I highlighted back in October last year at 23.54 after it was already up around 400% from it's Stage 2A breakout level. It's 1100%+ from it's Stage 2A breakout currently, and shows what can happen when you get continuous A+ volume characteristics come into a stock.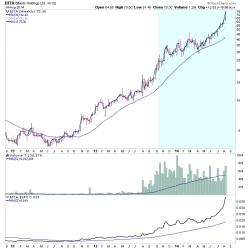 Clearly RNWH.L hasn't had those volume characteristics, but the last few days were promising on the initial volume during the breakout, although it still needs a big volume day tomorrow to make the 2x weekly average requirement on a breakout week.
isatrader
Fate does not always let you fix the tuition fee. She delivers the educational wallop and presents her own bill - Reminiscences of a Stock Operator.