RE: UK Stocks - Watchlist and Discussion (Premium)
(2014-08-01, 08:10 AM)

pcabc Wrote: Talking about market turmoil, I believe that I have a much better handle on the method now than I did towards the last quarter of last year. I don't just buy on price charts that look right, I look at volume much more, actually look at 'forest to the trees' etc but I'm having much less luck now. Of course, the sample is too low to be meaningful, it could be me or it could be a hint that it is a tricky time.
I think that ones an easy one to explain, as you only buy UK stocks, and the UK markets have been in Stages 3 and 4 of late and massively under performing the US and other markets, and so if you were using the forest to the trees approach correctly then you wouldn't be doing much buying over the last few months except for in exceptional cases that have A+ potential and can buck the market trend due to having exceptional volume. As the first part of the forest to the trees approach is considering the market Stage.
The FTSE 100 (UKX) for example hasn't been able to break clear of it's volatile Stage 3 range all year, and has shown consistently to be under performing the US market for the last few years.
The FTSE 250 (MCX) small caps on the other hand did outperform the US market during late 2012 and the first half of 2013, but has moved into Stage 3 during the last three to four months which has seen it hugely under perform the US market.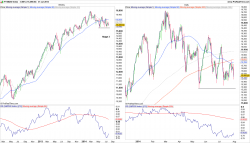 The FTSE AIM All Share (AXX) is even worse as it made a complete slide through Stage 3 and couldn't manage a single significant bounce, and so moved straight into Stage 4 in the last few months.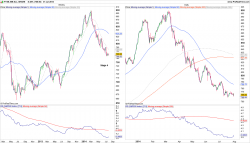 isatrader
Fate does not always let you fix the tuition fee. She delivers the educational wallop and presents her own bill - Reminiscences of a Stock Operator.