RE: UK Stocks - Watchlist and Discussion (Premium)
(2014-05-26, 09:49 PM)

Tryst Wrote: I had a look at this chart, and scaled out to the monthly chart. Over the 5+ years this chart has dropped from 600, give or take, in what was in what looks like a stage4 that happened over 2 years. It looks like it attempted a stage 2 in April 2012 but failed (on the month) which makes the monthly chart look like it is still in the very early stages of a basing phase.

So playing devils advocate, as I do , can we map Stan's stages (on a weekly basis), however many cycles from 1-4 occur onto the monthly chart?

Can we use the monthly chart to do the stages, or should we strictly stick to the weekly chart?
Firstly, when looking at a long term chart, especially a monthly chart, you have to use a logarithmic scale, as an arithmetic scale is virtually useless after a stock has had a large decline as you can see on the chart you posted, as the last three years has been squashed into a tiny portion of the chart. So for weekly and above charts you need to use a logarithmic scale imo.
I always look at the monthly chart on every stock as I think it's very important personally, as it gives the broader view of what's happened with the stock and can give extra confirmation if the Stages are moving in a similar path. i.e. on a weekly Stage 2A breakout, I'd want to see the monthly chart recovering into at least Stage 1A moving above a likely still declining 30 month MA, or 4B- at the very least like the monthly chart of CNS.L attached below.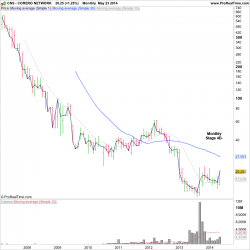 You should always look at multiple time frames when determining the Stages imo. I use monthly, weekly and daily, as well as point and figure charts when I do my stage analysis, as I think it's very important and that they should show a logical progression across the time frames like I mentioned before.
isatrader
Fate does not always let you fix the tuition fee. She delivers the educational wallop and presents her own bill - Reminiscences of a Stock Operator.