RE: UK Stocks - Watchlist and Discussion
(2014-04-03, 11:21 PM)

Tryst Wrote: Hi, a stock I am keeping a close eye on is NTBR (Northern Bear). It is in a good sector, Support Services. It is building up a nice saucer bottom on the weekly chart.

A couple of questions:

What stage is this chart in? Is it in a stage 2 continuation phase after breaking out of a stage 1 and into stage 2A during Sept 2013?

What is the likely stronger support (I guess this is an answer from experience). Is it the last swing high where I have drawn a horizontal line on, or will it be the 50 day MA?
We discussed this stock back on the 20th March here:
http://stageanalysis.net/forum/showthrea...81#pid3481
It made it's second continuation move into Stage 2B imo last week after moving into stage 2A in October 2012 at 14.50p and is now retesting the recent breakout level, closing at 33.25p today, and hence has already had a Stage 2 advance of 129%.
Both levels of support that you've identified are fairly minor levels of support imo, as the breakout level only took a single attempt to break through it to the up side, and the 50 day MA can be support because a lot of people monitor it. So I think in this that there isn't any major level of support as it's also quite thinly traded, and hence you need to watch how the price reacts on this retest of the continuation breakout level. i.e. whether it stabilises and rebounds to new highs, and hence forms a lower risk entry point with potential for a close traders stop loss under the new swing low if that happens.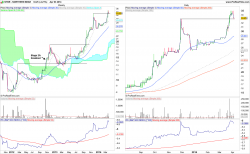 isatrader
Fate does not always let you fix the tuition fee. She delivers the educational wallop and presents her own bill - Reminiscences of a Stock Operator.