RE: UK Stocks - Watchlist and Discussion
(2014-02-02, 11:52 AM)

Tryst Wrote: With the latest code you pasted here, is this run on a weekly chart?
The code I pasted is run on the Daily selection period, which you should be able to tell from the Volume Average and the ATR setting, as on a daily they are 200 and a weekly they should be changed to 52. See attached below: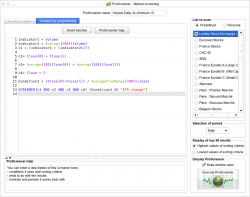 Also, I've attached my scanning screen setup, as I find looking at multiple time frames, resistance and point and figure on the same screen really helps when going through the results. I look at the weekly chart first, and have two versions on the same screen - one clean and one with ichimoku for support and resistance. Then the daily and monthly charts on the right, and a 1% P&F chart on the left. I have 27" screen though, so it wouldn't be possible on a smaller screen to have it all open, although I know some people have two small screens etc.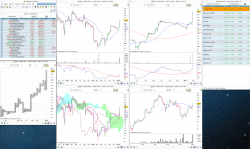 (2014-02-02, 11:52 AM)

Tryst Wrote: I'm trying to understand what the array for 'Close' is as you are using array indexers (c2= Close[0] > Close[1]). If you are using a weekly chart, does 'Close[0]' mean the latest/current weekly close (price or volume?)? and 'Close[1]' means the previous weekly close (price or volume)?
Close[0] > Close[1] is for Price and means today's close is greater than yesterdays close.
So if you want to do a scan on the weekly chart then change the Selection of period drop down menu to Weekly and adjust the volume and ATR settings to 52 and save as a separate scan. As I said it's fairly straight forward, so you'll get the hang of it quickly.
I hope that helps
isatrader
Fate does not always let you fix the tuition fee. She delivers the educational wallop and presents her own bill - Reminiscences of a Stock Operator.