(This post was last modified: 2019-07-25, 07:55 PM by pcabc.)
RE: FTSE 250 attempting to breakout into early Stage 2
(2019-07-25, 01:48 PM)

isatrader Wrote: Note: The FTSE 250 ETF (MIDD.L) is attempting to breakout into early Stage 2 for the first time in a few years. Relative performance versus the S&P 500 remains weak though, so US stocks are still favoured. But an interesting development if it can make the breakout, which could mean it's time for UK investors to start looking at some of the strongest looking UK stocks again finally, after years on the sidelines.
My data feed seems to be a bit behind yours, I won't get the ETF, nor the index data for FTMC / MIDD until later, so this chart is a day behind.  I thought I'd show the breadth data that I have calculated for the UK: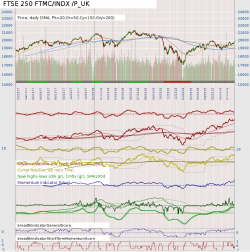 Interesting that it is looking so strong by the metrics I am using. though I'm not recording a few parameters that you use.  That does not alleviate the relative strength issue.
I also note your post yesterday where one of the breakouts seemed to be a smart alpha ETF for one of the midcap US indicies.  Hopefully the midcaps are trying to catch the large caps in the US.