RE: Beginners Questions
(2014-05-28, 05:40 PM)

Tom Wrote: I would like to have someone exam my trading method, please.

I am holding MPET from Nasdaq. It has a two year stage 1 base and I purchased it when it broke out in Feb. Sold half of position during the peak time - my reason is that the support range was around 2.5 - 2.27 from Jan, 2011.

For the other half of the position, I have sell-stop around 1.7 since it has a valid trendline. Since Mid May, MPET has been in correction and is forming support around 1.9. I plan to keep trailing it with my sell-stop.

Does it sound alright? Did I miss anything?
I can't see anything wrong in that approach with regards to the method as you have you sell stop in place and the correction has been on declining volume so far. So hopefully it will hold up for you and rebound higher again. Good luck.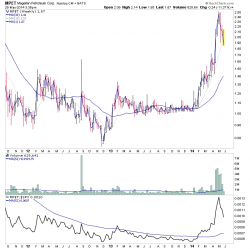 isatrader
Fate does not always let you fix the tuition fee. She delivers the educational wallop and presents her own bill - Reminiscences of a Stock Operator.