RE: Introduce yourself here!
A warm welcome to all of the new members to Stage Analysis recently, and it's good to hear that people have been introduced to it by their relatives that have done exceptionally well with it in the past. Hopefully many more of us can use it to be so successful in the markets in the future.

With regards to KnockNAQ's questions, you seem to be on the right track, as looking at the relative performance is one part of the method, and a good way to filter out undesirable stocks.

You should use a 30 week simple MA on your main weekly charts, although I found the 30 week weighted MA useful when I was first learning the stages, as it's easier to see when the stock is moving into Stages 1 or 3, as the weighted MA tends to flatten out. But the simple MA is the main one to use.

The 10 week simple MA should also be on your weekly chart, and this basically makes the 30 week weighted MA redundant, as it helps with the shorter term price action and moves into Stages 1 and 3. So just have the 10 and 30 week simple MA's on your weekly chart, with volume and the Mansfield RS.

A few final points on your weekly charts. Only show up to three years on your weekly chart, as support and resistance becomes less relevant the further out you go. And instead of the standard scale you are using, use a logarithmic scale, so that that you see the correct percentage moves of the price action, as Stage 1 bases are very hard to identify using a standard scale. Then once you have your weekly chart setup correctly, you can use the same settings on a monthly chart to view longer term price action as well.

Here are marked up charts with the weekly and daily settings that I use for Stage Analysis, which if you setup in the same or similar way will make it easier for you to compare new charts against the thousands of Stage Analysis examples on here.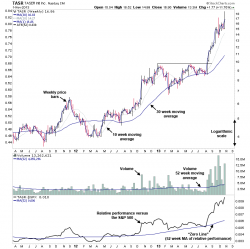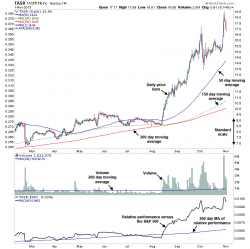 I hope that helps you get started, and you can find other answers to similar frequently asked questions in the Beginners Questions thread and across the other threads on the Stage Analysis forum and also in the original thread that this website was born from on t2w here: http://www.trade2win.com/boards/technica...lysis.html
isatrader
Fate does not always let you fix the tuition fee. She delivers the educational wallop and presents her own bill - Reminiscences of a Stock Operator.